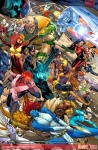 Marvel Comics has released several 50th Anniversary X-Men variant covers including Clay Mann's densely-populated cover for X-Factor #250 that appears (at least to this observer) to include just about every member of every iteration of X-Factor team.
A year of X-Factor storylines swirl towards a conclusion in the "Hell on Earth War," which kicks off in X-Factor #250. The "war" in which the various Hell Lords battle for domination is triggered by the birth of the seventh billionth soul on Earth, and it's up to X-Factor to save the planet once again.
X-Factor #250, which is due out on January 16th, is written by Peter David with art by Leonard Kirk and a standard cover by David Yardin as well as the stunning Clay Mann variant.