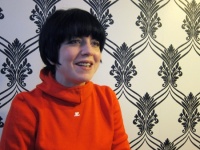 Shelly Bond will be the new Executive Editor of the Vertigo imprint, replacing the departing Karen Berger (see "
Karen Berger Leaving Vertigo
"), DC Entertainment announced today. Two other promotions add to her team: Will Dennis has been promoted to Group Editor, and Mark Doyle has been promoted to Editor, Vertigo.
Bond has been at Vertigo since its founding in 1993, when she joined Berger's team as Assistant Editor. She had previously edited Bill Willingham's The Elementals. At Vertigo, she nurtured Willingham's Fables, as well as many other series and original graphic novels, including The Invisibles, House of Secrets, The Sandman: Endless Nights and Death: At Death's Door. "Shelly has been by my side since the beginning of Vertigo, so I couldn't be happier about passing the baton to her," Berger said of Bond's promotion.
Dennis has been an editor at DC (Before Watchmen) and Vertigo, where he edited such projects as 100 Bullets, Pride of Baghdad, The Girl with the Dragon Tattoo, and DMZ.
Doyle joined Vertigo as Assistant Editor in 2006, where he worked on American Vampire, American Splendor, Sweet Tooth, and other projects.
DC is promising a continuing focus on Vertigo as a "cornerstone"" of DC Entertainment in the wake of Berger's departure (see "
DC Execs on Vertigo
").