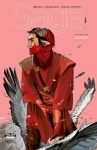 After getting some blowback from its initial decision not to reprint
Saga
#7 (see "
Image Ends Reprints on Some Titles
") and then relenting and selling a reprint at promotional discounts (see "
Image Relents
"), Image publisher Eric Stephenson announced that the company will reprint "when circumstances dictate that something needs to be reprinted to meet demand," but will not "just reprint everything as a matter of course." Stephenson made the point that the average issue of
The Walking Dead
would not meet his criteria for a reprint, and that "reprinting later issues of a book just doesn't make a whole lot of sense." Our takeaway is that first issues will be reprinted on a regular basis, but that later issues, unless there are special circumstances, will not.
Image will also be continuing and expanding retailer incentives on books that are natural jumping on points, such as making first issues returnable if thresholds are hit, or offering extra discount on mid-series jumping-on points if thresholds are hit.