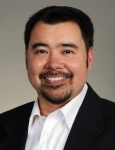 Hank Kanalz has been given oversight of Vertigo. He previously ran DC's digital operation as SVP-Digital; he's now SVP Vertigo and Integrated Publishing. This means that Karen Berger's old job as Vertigo Executive Editor and Senior Vice President (Berger is leaving early next year, see "
Karen Berger Leaving Vertigo
") is being split into two parts, with Shelly Bond taking over as Executive Editor (see "
New Management Team at Vertigo
"), but reporting to Kanalz in his SVP role.
Bob Harras has been promoted to Senior Vice President to go with his Editor-in-Chief title, a position he's held for over two years (see "
DC Names New EIC
").
Kanalz, Harras, and Mad VP and Executive Editor John Ficarra will all report to DC Co-Publishers Jim Lee and Dan DiDio.