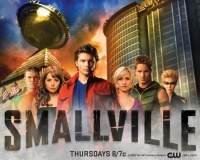 Smallville
production company Tollin/Robbins Productions has settled its suit against Warner Bros., according to
Hollywood Reporter
. Terms were not disclosed. The suit, for over $100 million, had alleged that Warners' negotiations with its sister companies, the networks WB and CW, were not at arms length and had the effect of reducing the amount of profits in which the exec producers were to share (see "
'Smallville' Producers Sue Warners
").
The suit also alleged that Warners payment of royalties to sister company DC Comics amounted to paying itself for the rights and also unfairly reduced the profits on which shares were calculated. Paying DC for Smallville rights reduced the production company's share by over $13 million, the suit had alleged, implying a fairly hefty pay-out to DC.
The lawsuit by showrunners and exec producers Miles Millar and Alfred Gough over the same issues has not yet been settled.