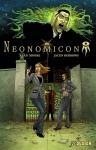 Greenville County Library Executive Director Beverly James over-ruled the system's challenge committee to remove Alan Moore and Jacen Burrows'
Neonomicon
from the system's shelves after a complaint by a parent whose child got access to the book from the library's "adult" section, according to
Greenville Online
.
James told the site she removed the book after she read it and found it "disgusting." The key source of her discomfort apparently came not from the content, but from the comics medium. "She acknowledged the library has many books that deal in such detail with the very same subject matter--racism, rape, murder, sex--but for her, the pictures gave her pause," the report said.
The committee that evaluated the challenge before James over-ruled it and removed the books (two copies) from the system's shelves read the book and considered reviews, recommended lists, the author's reputation, and the fact that the book won the Bram Stoker Award before deciding the title should remain available.
The controversy has been percolating since last June, when the Comic Book Legal Defense Fund got involved along with other free speech organizations (see "
CBLDF Joins 'Neonomicon' Dispute
").