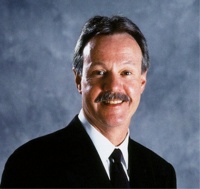 Richard McWilliam, the co-founder and CEO of The Upper Deck Company, passed away unexpectedly at his home in Rancho Santa Fe, California, on Saturday. He was 59. McWilliam co-founded Upper Deck in 1989 and served as its CEO and Chairman of the Board since. The cause of death is unknown, but McWilliam had a history of heart disease and had open heart surgery in 2008.
Jason Masherah, who as Vice President of Marketing and Business Development has also been overseeing day to day operations (see "
Interview with Upper Deck's Jason Masherah
"), has been appointed President of Upper Deck. The company will "continue to introduce innovating and exciting products that will reinforce Upper Deck's position as the leader of our industry," the announcement said.
The company stressed continuity in a statement. "I want to assure you that while his departure is a hard emotional blow, it will not affect Upper Deck's ability to fulfill the commitments and obligations we have made with our business partners," a spokesperson said.
McWilliam was also founder and CEO of Jet Source, an aircraft charter, maintenance, and fixed-base operation in Carlsbad, California.
Upper Deck under McWilliam's leadership was a groundbreaker in sports card form and content, which caused a revolution in the business when the company launched in 1989. It quickly grew to be a major competitor in the trading card business. But the company also had occasional problems with licensors, including a card counterfeiting scandal involving
Yu-Gi-Oh!
(see "
Conditional Settlement Notice Filed
")
.
The company currently has fewer sports licenses for trading cards than it's had in the past (see "
Upper Deck Loses Football
"), and is rebuilding its entertainment operation around Marvel (see "
Upper Deck Marvel Program
").
Even as Upper Deck re-tooled a few years back, McWilliam was a fervent spokesman for his company (see "
Richard McWilliam Interview
"), and appears to have been successful at turning it around after setbacks.
Upper Deck's charitable activities under McWilliam included the Field of Dreams baseball game, charity fundraisers hosted by the Baseball Assistance team, support for youth sports programs and local Boys and Girls Clubs, Make a Wish Foundation, Operation Gratitude, and children's and Veterans Administration hospitals. McWilliam was the main source of funding for the Adopt-A-Creek trout-stocking program in Bishop, California.
McWilliam is survived by his wife and three children.