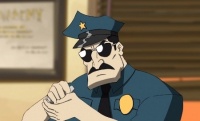 The voice cast for the new animated series based on the Webcomic Axe Cop includes Megan Mullally, Patton Oswalt, Ken Marino, Peter Serafinowicz and guest stars.
The show will premiere as part of the ADHD (Animation Domination Hi-Def) block on Fox on July 27th. Two other shows, High School USA! and an untitled Lucas Brothers project, are also slated; all three shows have initial six quarter hour orders. With a 90 minute block (11 p.m. – 12:30 a.m.), there's going to be repeats.
Dark Horse has the collections, Steve Jackson Games has the Munchkin expansion.