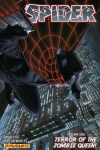 The Spider Vol. 1: Terror of the Zombie Queen TP
Publisher: Dynamite Entertainment
Release Date: January 23, 2013
Cover Price: $19.99
Writer: David Liss
Artists: Colton Worley
Cover: Alex Ross
Format: 168 pgs., Full-Color, Trade Paperback
Rating: Teen+
One of the most celebrated pulp heroes of all time is back, and re-launched into the 21st century! Richard Wentworth is a decorated war hero who has sacrificed everything, including the woman he loves, for duty. But the New York City Wentworth returns to is riddled with crime and corruption. With the police overwhelmed and a populace helpless, Wentworth becomes The Spider, a vigilante as ruthless and merciless as the criminals he hunts. But now there's a new danger on the rise. A deranged woman called Anput has begun a series of attacks that turn ordinary citizens into mindless zombies, bringing New York and the police force to their knees. Wentworth will stop at nothing to save the city he's sworn to protect, but in the process he will risk his family, his friends, and the woman he still loves. Written by bestselling novelist David Liss (Black Panther, Mystery Men) with stunning art by Colton Worley (Dracula, Lobster Johnson), The Spider is dark, hard-hitting neo-pulp at its best.
COLLECTION FEATURES:
• Issues 1-6 of the acclaimed series by David Liss and Colton Worley
• All of the covers by Alex Ross (Marvels), John Cassaday (Uncanny Avengers), Francesco Francavilla (Zorro) and pulp artist Ron Lesser.
• Writer's commentary on issue #1 by David Liss.
• Character sketches and designs by Alex Ross.
"The Spider... is a fantastic slice of action and world building."
--Comic Book Resources
"All in all, this is a very healthy dose of awesome... Pulp is back, my friends, get it while it's hot!"
--Bloody Disgusting
"Without a doubt [The Spider] is one of the coolest books anyone can read on the shelves right now."
--Comics Attack
"The Spider… serves as a perfect example of relaunch done right."
-- Major Spoilers
Description of preview: 12 pages (5-16)