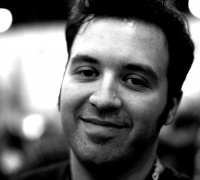 Image Comics has announced the hiring of Ron Richards as Director of Business Development. In this role Richards will concentrate on creating sales and marketing strategies for Image's publications, while extending awareness of the Image brand. He will be working closely with Image Publisher Eric Stephenson and Marketing Director Jennifer de Guzman.
Richards is perhaps best known for co-founding the ifanboy.com Website. The digital publisher Graphicly acquired iFanboy in 2010, and Richard proceeded to work for Graphicly during the interim. But with Graphicly largely forsaking the digital comics distribution world in order to take a wider approach to digital publishing (see "
Graphicly Ankles Apps
"), the importance of the iFanboy site to Graphicly has been considerably diminished. Today the
iFanboy
site announced that with "Graphicly focusing its resources beyond comic books" iFanboy was no longer a necessary part of the company's business model. But since "no one wanted to see iFanboy shut down... Graphicly generously worked with us to enable the transition back to independence."
The upshot is that Richards is "resigning from all active editorial involvement with iFanboy." He has moved on to Image Comics, and iFanboy will continue as an independent entity under the editorial leadership of longtime contributor Paul Montgomery.