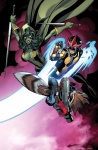 Jeph Loeb and Ed McGuinness' new Marvel NOW! series Nova debuts next month, but Marvel is demonstrating that work on the new series is proceeding apace. Yesterday the House of Ideas released some pages from Nova #2, and today comes a cover and a couple of pages from issue #3, which ships in April. The pencils from #3 show the teenage Sam Alexander's encounter with The Watcher. Marvel describes the events that take place in Nova #3 as Sam's "Training Day," and it appears that it is the Guardians of the Galaxy who will be doing the training.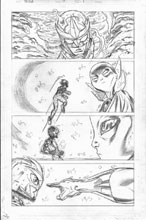 The cover for
Nova
#3 certainly confirms Sam's training regimen in that it features a couple of members of Marvel's
Guardians of the Galaxy
, an indication not only of the increasing prominence of the Guardians (see "
Bendis & McNiven Prep New 'Guardians' Series
" for coverage of the new Guardians comics), who are getting their own feature film ( see "
Marvel Confirms 'Guardians of the Galaxy'
," and "
'Guardians' Director to Write
" to follow the progress of the
Guardians
feature film), but perhaps also signals a definite turn towards the cosmic in the Marvel universe in 2013.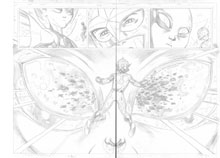 Here's the second page of McGuiness' pencils from
Nova #
3 as The Watcher continues to school Nova.