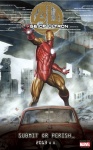 Marvel Comics' latest teaser for Brian Michael Bendis and Byran Hitch's 10-issue
Age of Ultron
crossover event features a dynamic image of Iron Man by Adi Granov. Like the previous three Ultron teasers (see "
Marvel Unveils 'Age of Ultron' Teasers
," and "
She-Hulk in 'The Age of Ultron'
"), Iron Man, who is shown perched on the top of car in the midst of a firefight, is depicted against the background of a half-destroyed, war-torn city.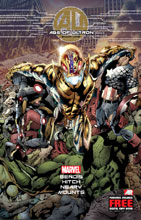 Perhaps the most interesting aspect of Granov's stirring depiction of old Shellhead is the old school 1960s style armor that he is wearing, which contrasts with the modern Marvel NOW! armor type used in Bryan Hitch's previously released cover for
The Age of Ultron
#1 in which Ultron appears to be making hash out of the Avengers. The disparity in armor types should give fans plenty to speculate about.
The Age of Ultron will debut in March with the release of the first three issues of the limited series. Marvel then plans to release two Age of Ultron issues per month thereafter until the series is finished.