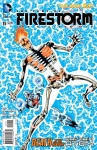 DC Comics has announced the that the tear-stained final issues of
Fury of Firestorm, Ravagers, Savage Hawkman, Deathstroke, Team 7
, and
Sword and Sorcery
will be published in May. Add in the two books that are going away in April (
I, Vampire
and
DCU Presents
) and it appears that 8 titles, almost 15% of the "New 52" are heading for extinction this spring, and that's not even taking into account the four cancellations that were announced in October and took effect in January (
Blue Beetle, Grifter, Legion Lost, Frankenstein Agent of S.H.A.D.E.
, see "
New 52 Churn Continues as DC Axes 4
").
While DC has announced a number of new titles including a new
JLA
series, plus
Vibe
,
Katana
, and a new
Superman/Man of Steel
title from Scott Snyder and Jim Lee (see "
Jim Lee and Scott Snyder on New Superman Title
"), this new wave of cancellations appears to make room for a platoon of new titles to debut this spring and summer.
A look at the most recent ICv2 sales chart (see "
Top 300 Comics--December
") shows that the six newly-cancelled titles all have circulation numbers well below 20,000 copies with
Ravagers
#7 leading the pack with just over 16,000 copies, followed by
Team 7
#3 (at 15,381),
Sword and Sorcery
#3 (13,752),
Savage Hawkman
#15 (13,564),
Deathstroke
#15 (13,528), and
Fury of Firestorm
#15 (11.997).
Note that while Savage Hawkman, Deathstroke and Fury of Firestorm have been around from the beginning of the "New 52" initiative, the other three cancelled titles were "replacement" books brought on to take the place of previous members of the "New 52" that couldn't pass muster. Does the high mortality rate among the replacement books serve as an indication that "52" may be a few books too many for DC to sustain at profitable levels?