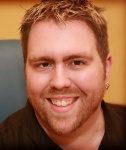 There's a new vice president at Diamond Comic Distributors. In a dramatic move, Diamond has announced that Chris Powell has been promoted to the new position of Vice President of Retailer Services. Powell joined Diamond early last year from Lone Star as Executive Director of Business Development, charged with developing programs to help comic retailers improve and expand their businesses (see "
Chris Powell to Diamond
"). In his new role, Powell will also handle Diamond's Customer Service and Technical Support departments. Those departments previously reported through VP-Sales and Marketing Roger Fletcher, who will now have additional time for his other areas of responsibility.
We called the Powell promotion a dramatic move because Diamond has had a very stable management team over a long period of time. The five members of the Diamond management team directly responsible for comic distribution, COO Chuck Parker, CFO Larry Swanson, VP-Operations Cindy Fournier, VP-Sales and Marketing Roger Fletcher, and VP-Purchasing Bill Schanes, have been together at Diamond (under CEO Steve Geppi) for decades. Kuo-Yu Liang was the last officer appointment when he was brought on board to run the company's then new book distribution division in 2002 (see "
Diamond Forms New Book Division
").
Powell's promotion to an officer position will bookend another big change to Diamond's management team when Schanes leaves his VP-Purchasing position at the end of April (see "
Schanes Stepping Down at Diamond
").