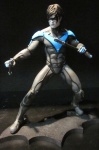 At Toy Fair DC Direct exhibited a number of new items including a striking Nightwing figure from the Arkham Statue Line. The Nightwing Statue (MSRP $124.95) is due in the summer of 2013. The muted palette employed on this compact, but powerful figure enhances the effect of its splash of color.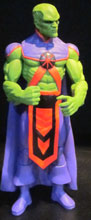 But even more impressive was the
Before Watchmen Ozymandias Statue
(MSRP $149.95). Based on Jae Lee's powerful cover image the figure of
Ozymandias
appears floating above its base. This highly-detailed figure (check out the figure's superbly rendered clothing) should be available in the fall of 2013.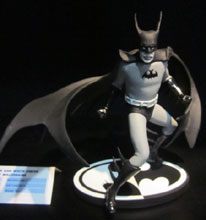 Among the other statues DC displayed was the latest series of
Batman Black and White Figures
. This year's incarnation features a variety of art styles with designs based on the works of Mike Allred, Sean Murphy (
Punk Rock Jesus
), Rafael Grampa, Sean Galloway, and Tony Millionaire.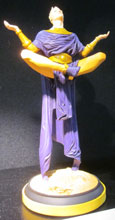 DC Direct is continuing with its line of "
New 52" Action Figures
that will include the
Justice League New 52 Martian Manhunter Action Figure
, which has an MSRP of $24.95.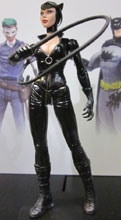 DC Direct will also be producing a couple of 2-packs for 2013. Both the Flash and Vibe 2-Pack (MSRP $39.95) and the
Katana and Wonder Woman 2-Pack
($39.95) are not just put together arbitrarily, a DC representative assured ICv2 that "there are editorial reasons why these two figures are put together--and these reasons will be made clear later this year."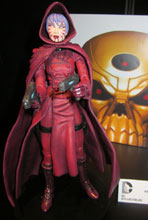 One of the coolest action figure releases of the year is the
Pandora & Skull Box Set
, which is due in November. A DC spokesperson told ICv2, "She will come in the skull--the figure will be inside the skull, which will have hinges."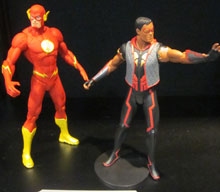 The DC rep also told ICv2 that DC Direct would be doing another 7-pack of Action Figures, the
Justice League Superheroes vs. Villains 7-Pack
(MSRP $99.95) for the 2013 holiday season: "At the end of the year, we're doing another 7-pack like we did last year. This one will feature heroes and villains and
Catwoman
will be in the middle of them, that's the first appearance in toy form of
Catwoman
and she'll be in that 7-pack only. And she'll be separating the heroes and the villains because you don't know with
Catwoman
."