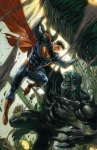 Rumors that Andy Diggle was terminating his stint on
Action Comics
almost as soon as it began have proven to be true, with Diggle confirming that he was stepping down on
Twitter
, stating succinctly that "Sadly, I have decided to walk away from
Action Comics
for professional reasons." Now it appears that Tony Daniels, who drew Diggle's first (and perhaps only)
Action Comics
effort will take over writing chores on the book as well.
Bleeding Cool,
which first reported that Diggle was leaving
Action Comics
, now indicates that Joshua Hale Fialkov, who recently assumed the writing duties on two
Green Lantern
titles (
Green Lantern Corps
and
Red Lanterns
, see "
New 'Green Lantern' Teams
"), is leaving those books. BC attributes both departures to "repeated editorial changes to already approved directions" that were not welcomed by the writers involved. Commenting on the departures, Rob Liefeld, who left DC in 2012,
tweeted:
"This 'Hey we need you to change what you planned and we approved cuz we have something better… again' at DC is exactly why I fled." Fialkov will be replaced on
Green Lantern Corps
by Van Jensen (
Pinocchio Vampire Slayer
) and Robert Venditti (
The Surrogates
). New
Swamp Thing
writer Charles Soule will take over
Red Lanterns
.
Add in the mystery of Supergirl #18, which was released today with one artist team (Mike Johnson and Mamud Asrar) listed on the cover and another (Frank Hannah and Robson Rocha) on the inside and it certainly appears that there is some considerable disarray on the editorial side at DC, especially since no one appears to have heard of Frank Hannah before causing many to believe that the issue was actually written by an editor.