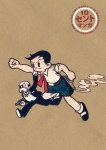 PictureBox Inc. has released its 2013 manga list of five titles. 2013 finds PictureBox debuting single volume titles as well as the first two installments in its Ten Cent Manga line, a series devoted entirely to manga that bridges American and Japanese cultural traditions.
By far the most anticipated title is Osamu Tezuka's The Mysterious Underground Men, the second installment in the Ten Cent lineup, a Fall title. Originally released in 1948, The Mysterious Underground Men is an anthropomorphic tale of a talking rabbit named Mimio who must save the earth from an invading army of humanoid ants. A classic of Japanese manga, The Mysterious Underground Men is a 176-page full color hardcover that retails for $24.95.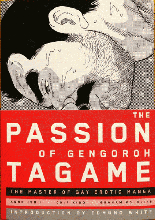 The Passion of Gengoroh Tagame: Master of Gay Erotic Manga
will be released April 30. Edited by Anne Ishii, Chip Kidd, and Graham Kolbeins,
The Passion
is an oversized, omnibus collection of ten English translations of shorter comics from the 1990s through 2012, along with an essay by Kidd and an introduction by Edmund White.
The Passion
is a 256-page paperback that retails for $29.95 and has extremely explicit content for adults only. PictureBox is also offering an exclusive bookplate to the first 200 pre-orders.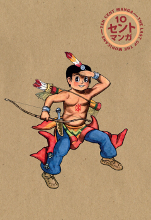 Also premiering on April 30 is the first volume in PictureBox's Ten Cent Manga, Shigeru Sugiura's
Last of the Mohicans
. Edited by manga scholar Ryan Holmberg,
Last of the Mohicans
was originally produced in the early 1970s. A loosely-based, free interpretation of the original James Fenimore Cooper classic,
Last of the Mohicans
includes an introductory art history essay on Sugiura, as well as a translation of his 1988 article "Silent Movies." The 160-page hardcover retails for $22.95.
Two manga titles are planned for Fall: Seiichi Hayashi's Gold Pollen and Other Stories and Yuichi Yokoyama's World Map Room. There are no details, however, on format, price, or publication date.
--Nathan Wilson