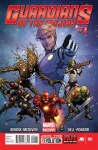 Marvel had a big month in March, as Diamond Comic Distributors' comic and graphic sales to comic stores rose 22.59% over March 2012, Diamond announced. Marvel topped DC by nearly 13 points of market share, with Marvel at roughly 40% of March sales and DC at around 27%.
March comic sales were up 26.28% over March 2012, and graphic novel sales were up 14.33% to produce that 22.59% over-all year-over-year growth in March.
The first quarter was outstanding in comic stores, with a nearly 20% increase in comics and graphic novel sales this year vs. 2012. Comics were up 21.38%; graphic novels were up 16.22%; and comics and graphic novel sales were up 19.78% over-all in Q1 vs. Q1 2012.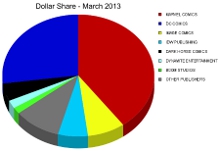 Marvel's great March was clearly visible at the top of the charts, where it took the top two comic slots with
Guardians of Galaxy
#1 and
Age of Ultron
#1. Marvel had seven of the top ten comics in March.
And although DC had the top two graphic novel slots, with Batman: City of Owls Vol. 2 HC and Batman: Court of Owls Vol. 1 TP, and three of the top ten, Marvel also had a good month, with four of the top ten graphic novels in March (Hawkeye Vol. 1 TP, Avengers vs. X-Men TP, Kick-Ass 2 TP, and Kick-Ass 2 Prelude Hit-Girl HC).

For an overview and analysis of comic sales in March, see "'Guardians' Debuts Over 200K."