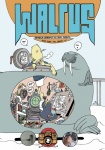 PictureBox Inc. has posted release information for its 2013 releases (we reported on its manga titles separately, see "
Tezuka, Tagame, Sugiura, and More
"). First up is the much anticipated
Walrus
from cartoonist Brandon Graham. Recognized recently for his relaunch of Rob Liefeld's
Prophet
in 2012 with Image Comics, Graham is also the creative force behind
King City, Multiple Warheads, Escalator
, and a host of other indie and underground books. Collecting drawings and sketches, as well as previously unpublished comics from 2009 through 2012,
Walrus
will be a 112-page, color paperback, retailing for $19.95 with an April 30 release.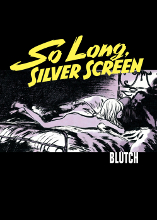 PictureBox will also publish Blutch's
So Long, Silver Screen
and C.F.'s
Mere
this Spring.
So Long, Silver Screen
is the latest work from French cartoonist Blutch (
Mitchum, Peplum, Le Petit Christian
), who emerged on the comics scene in 1988's
Fluide Glacial.
Utilizing mini-comics or short comics format not only to examine the impact of movies on contemporary culture, but also to explore the viability of visual storytelling,
So Long, Silver Screen
is Blutch's first full-length book produced in English. The 88 page hardcover is full color and retails for $22.95. As with
Walrus
,
So Long
debuts on April 30.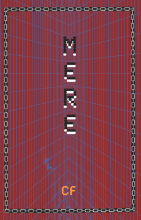 Marketed as Roy Crane meets Joseph Beuys,
Mere
is a collection of 2012 mini-comics exploring classic comic genres such as crime, science fiction, and many others. Originally, C.F. (
Powr Mastrs, Core of Caligula, City Hunter
)distributed these contemporary interpretations via Twitter.
Mere
is a 180-page color paperback that retails for $19.95 and is available on May 31st.
As for PictureBox's Fall lineup, no specific dates have been revealed; however, the publisher has provided an author and title list that includes Anya Davidson's School Spirits and Matthew Thurber's Infomaniacs.
--Nathan Wilson