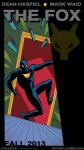 Red Circle Comics has announced a new ongoing series, The Fox, by Eisner Award winning writer Mark Waid (Daredevil) and Emmy winning writer/artist Dean Haspiel (Billy Dogma, HBO's Bored To Death). The new series will launch this fall. The character debuted in 1940 in Blue Ribbon Comics #4.
The New Crusaders: Legacy trade paperback is set for release July 30, with Alex Toth's Fox run plus vintage work by Robert Kanigher, Steve Ditko, Alex Toth, and Carmine Infantino, along with new material by Ian Flynn and Jerry Gaylord. It will cost $16.99 and run 192 pages.
Red Circle, which dates back to the 1970s in various incarnations, is the superhero imprint of Archie Comics, which re-launched the franchise in August with The New Crusaders: Rise of the Heroes (see "Paul Kaminski on Archie's Superhero Revival"). The collection of that first story arc will be out this summer.
New Crusaders: Dark Tomorrow, though previously solicited for May, has been pushed back to 2014.
--Brett Weiss