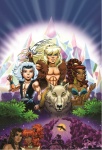 Dark Horse will release a new Elfquest series, Elfquest: The Final Quest, by Wendy and Richard Pini. The new series will be launched with a prologue this fall. The Wolfriders have found safe haven in the Palace of the High Ones, but lose the skills that allowed them to survive, and in this new series, some may stay and some go back to the forest, with a grim price to pay.
Dark Horse is also planning all-new editions of the previously published material. Contrary to what's been reported elsewhere, the format has not yet been determined, but will probably not be similar to the hardcover editions published by DC.
"We're looking at a few different formats," Dark Horse spokesperson Jeremy Atkins told ICv2. "DC already did the higher-priced hardcover editions so what we really want to do is something new in line with what the market may be looking for today as opposed to what's been done previously. While we haven't settled on a format yet, we're looking at a variety of options, including maybe even coloring some of the material."
A new film deal is in the pipe, after Warner Bros. dropped it after a long development period (see "New Film Deal for 'Elfquest'").