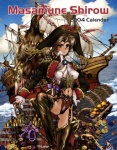 Tide-Mark's list of 2004 calendars includes at least nine entries that will have strong resonance with pop culture retailers who deal in comic books and RPGs. Stylistically these full color calendars run the gamut from anime to undergrounds, with humor and game-related fantasy subjects thrown in for good measure. With the exception of the wirebound Vertigo Desk Diary, which retails for $14.95, all the other calendars are in the 11' x 14' wall hanging format and sell for $12.95.
The lone anime entry in this year's line features the art of Masamune Shirow, including images from the new book Intron Depot 3: Ballistics (which Dark Horse Comics is publishing later this year). Shirow, who is best known for his Ghost in the Shell manga series, remains one of the top-selling manga artists in the U.S. and Europe.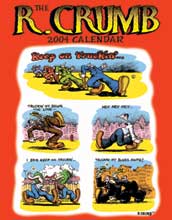 Just as anime has only one representative on this list, so too does the Underground movement, which is represented by R. Crumb, who not only provides images from throughout his long and varied career, but commentaries about each piece as well. Tide-Mark's Mad 2004 Calendar provides a more obvious kind of humor, but the efforts of the 'usual gang of idiots' were an obvious influence on Crumb, who worked with Mad Alumnus Harvey Kurtzman.
Fantasy art calendars often manage to appeal to both comic fans and gamers. Tide-Mark has three key fantasy releases for 2004 including a collection by TSR favorite Brom, a superb collection of Dragon illustrations by the Catalonian artist Ciruelo Cabral, and a full color offering from the 'Grand Master of Fantasy Art,' Frank Frazetta.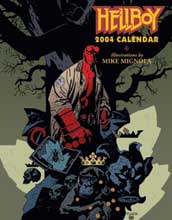 The other three comic-based calendars come from Dark Horse and DC Comics. Mike Mignola's Hellboy is one of Dark Horse's best titles (and is currently being made into a feature film). Dark Horse also publishes Stan Sakai's Usagi Yojimbo, which is represented here by a full color calendar that also includes Japanese holidays. DC's lone Tide-Mark entry is a 6' x 9' Vertigo Desk Diary that includes 53 full color illustrations.