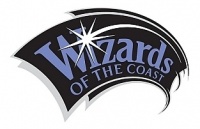 Wizards of the Coast and parent Hasbro have sued three Sweetpea entities, alleging trademark and copyright infringement because of Sweetpea's plans to make a
Dungeons & Dragons
movie with Warner Bros. (see "
Warner Bros. Gets 'D&D' Film Rights
"), according to court documents released by
Hollywood Reporter
. Hasbro/WotC also had plans for a
D&D
movie (see "
Dueling 'D&D' Movies
"), at Universal, a situation that, as we predicted, has now ended up in court.
Sweetpea is the company that produced the recent
Book of Vile Darkness
TV movie for Syfy (see "
'D&D' Feature for Syfy
"), a 2005 Syfy
D&D
movie, and a 2000
D&D
feature that was released theatrically and did around $34 million worldwide. WotC and Hasbro allege in the complaint that Sweetpea's rights to make a sequel to the 2000 theatrical feature have reverted because production was not initiated within the time required by the contract.
Anticipating a claim by Sweetpea that the TV movies fulfilled that requirement, Hasbro argues that those were always intended for TV release, under the TV rights provisions of the contract.
Hasbro/WotC asked the court to prevent Sweetpea from proceeding with the movie at Warners, plus damages.
This isn't the first time Wizards of the Coast has gone into court to try to get its movie rights back from Sweetpea. Then subsidiary TSR sued in 1998 because Sweetpea hadn't begun photography on a film under its license, asking that the court determine that the rights had reverted to TSR. A settlement in that suit was eventually signed, and Sweetpea has since made the three productions (one theatrical, two TV) listed above.