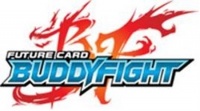 Bushiroad will launch a new TCG for kids 9-11,
Future Card Buddyfight
, simultaneously in Japanese and English in January 2014, the company announced at Tokyo Toy Show.
The new game will be supported in Japan by manga serialized in Shogakukan's
CoroCoro Comic
beginning this winter, and by an anime which begins airing in Japan in early 2014. Given the lineage of the manga, Viz would be the logical U.S. publisher if it comes to the U.S.
Bushiroad is having increasing success with its
Cardfight!! Vanguard TCG
in North America, and is also launching
Weis Schwarz
, its second game release in North America.
Bushiroad also announced at the same show that it's developing a second new game, Five Qross, which will incorporate both physical packs and online play. Five Qross will launch this fall in Japan; no word on whether or when it will come to North America.