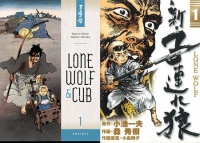 As Dark Horse CEO Mike Richardson hinted in an interview with ICv2 in March (see "
Dark Horse's 25 Years of Manga
"), Dark Horse has announced a new manga title written by Kazuo Koike:
New Lone Wolf and Cub
. Joining Koike is artist Hideki Mori. The
New Lone Wolf and Cub
will follow where the first series ended and is slated at 11 volumes. It will launch in 2014.
Originally published by First Comics between 1987 and 1991,
Lone Wolf and Cub
ran for 45 issues. Written by Koike and illustrated by Goseki Kojima (who passed away in 2000),
Lone Wolf and Cub
was picked up by Dark Horse Comics in 2000. Since then, Dark Horse has released 28 volumes of the series both in print and digitally, and sold over one million copies.
Dark Horse is bringing Eisner Hall of Fame inductee Kazuo Koike to San Diego Comic-Con to promote the forthcoming series.
Dark Horse has also launched omnibus collections of
Lone Wolf and Cub
. The first volume is now available.
--
Nathan Wilson