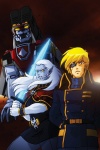 Comic-Con News:
Dynamite Entertainment has announced that it has acquired from Harmony Gold and DC Comics the rights to publish a
Robotech
comic book series, though Dynamite plans to publish the first ever
Robotech/Voltron
crossover series first. Dynamite has been publishing
Voltron
comics since 2011 (see "
Dynamite's 'Voltron' Launches in December
"), and the publisher expects that the teaming of the popular
Robotech
cast of pilots with the five lions of
Voltron
will generate lots of fan excitement. Dynamite's new standalone
Robotech
series will debut after the
Voltron/Robotech
crossover ends.
Both
Robotech
and
Voltron
were popular cartoon series in the U.S. in the 1980s, and both
Robotech
and
Voltron
were cobbled together for the American market by combining several similarly-themed anime series. Not only were these series popular in their own right, they also helped pave the way for the anime and manga boom that took off in the U.S. in the 1990s.
Look for more information about the
Robotech/Voltron
crossover and Dynamite's new
Robotech
series to be released in the coming weeks.