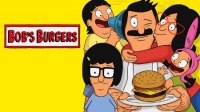 Comic-Con News:
Early this morning Dynamite Entertainment announced an agreement with Twentieth Century Fox Licensing that will allow it to publish a comic based on the
Bob's Burgers
animated series. The show, which is a staple ingredient of Fox's Sunday night lineup, follows the bumpy business career of everyman Bob, who runs the eponymous burger joint with the help of his long suffering wife and three kids. The show's distinct visual style and offbeat humor should translate well into the graphic medium of comics.
The acquisition of the
Bob's Burgers
license marks a thematic expansion of sorts for Dynamite, which has a growing arsenal of licensed comics in its line, though none of them, until now, has been an out-and-out humor title.