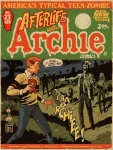 Comic-Con News:
Zombies in Riverdale? Does this mean that the zombie apocalypse that has infected nearly every segment of popular culture has reached high tide and is left with nothing to do but recede? Only time will tell, but on October 9th comic fans will get a chance to examine the effect of the undead on Riverdale in
Afterlife With Archie
, a new comic book series by Roberto Aguirre-Sacasa, who is also writing the new Archie movie (see "
Archie Movie Plot Reveals
") and Francesco Francavilla. The animated teaser included here will be shown at the Archie panel at Comic-Con.
The new series represents a bit of a departure for Archie Comics, which recently revived the company's long dormant superhero line (see "
The Fox by Waid & Haspiel
") Red Circle Comics. But
Afterlife With Archie
will be published under the "Archie" imprint. The basic narrative dynamics, settings, and characters of the mainstream Archie Comics have remained largely unchanged and oblivious to most societal changes except fashions since they debuted in the 1940s, but in this case a dominant contemporary pop culture trend invades Riverdale itself and the result looks like a very different sort of "Archie" comic. Aguirre-Sacasa described the series to
The Hollywood Reporter
as "a horror comic laced with an undercurrent of black comedy."
Aguirre-Sacasa's saga begins when Jughead's pet canine Hot Dog is run over by a car and Jughead asks Sabrina, the Teenage Witch to resurrect his pooch, but when the dog is returned to life it bites Jughead and precipitates the zombie crisis in Riverdale.