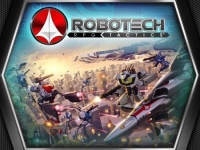 Palladium Books has released additional details this week regarding the release of
Robotech RPG Tactics,
including updated complete box set contents and information on the first six expansion sets.
The
Robotech RPG Tactics Box Set
contains:
24 Battle Dice (12 UEDF, 12 Zentraedi)
40 color game cards (unit cards, etc)
4 VF-1A Valkyries (in Fighter, Guardian, and Battloid modes)
1 VF-1J "Officer" (in all three modes)
4 Destroids (2 Tomahawks, 2 Defenders) (updated item)
12 Regult Zentraedi Battlepods
1 Glaug Officer's Battlepod,
1 Quel-Regult Recon Battlepod (new item)
1 Quel-Gulnau Recovery Pod (new item)
Full color, 90+ page, softcover rule book (written by Alessio Cavatore, David Freeman and Carmen Bellaire)
The tentative MSRP is $90.00. Expected release is in November.
The first six
Robotech Expansion Packs
are planned to release at the same time as the box set, and will carry MSRPs in the $25-$35 range. The planned releases are:
UEDF Valkyrie Wing (2 each, Fighter, Guardian, Battloid) –$30.00 (tentative)
UEDF Destroid Pack (2 Tomahawks, 2 Defenders) –$30.00 (tentative)
UEDF Spartan Pack (2 Spartans, 2 Phalanxes) – $30.00 (tentative)
Zentraedi Regult Battlepod Squadron (6 Regults) – $30.00 (tentative)
Zentraedi Support Battlepods (4 Artillery Battlepods) – $30.00 (tentative)
Zentraedi Command Pack (1 Glaug, 1 Quel-Regult, 1 Quel-Gulnau) –$35.00 (tentative)
Preview back in April,
Robotech RPG Tactics
is a fast-paced, strategy battle game that expands on the popular Palladium role-playing system to allow both skirmish and mass combat games (see "
Preview: 'Robotech RPG Tactics'
"). The game uses a turn-based system of play, and uses D6 dice. The rules allow for scalable combat from small squad skirmishes to mass battles (and can accommodate from two to several players). While combat is fast-paced, it is detailed enough that measuring tape is required to calculate targets and distance. Palladium eventually plans to release mecha and setting for all eras of
Robotech
, and they are currently working on a Tournament program.
Funded in less than 24 hours via Kickstarter in May,
Robotech RPG Tactics
quickly became one of the highest grossing tabletop game projects on kickstarter (see "
$1.4 Million+ for 'Robotech RPG Tactics'
").