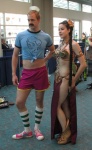 Here's the story of Comic-Con in pictures, beginning with preview night and the first full day Thursday. See also
Part 1
, and
Part 2
.
NOTE: Any image can be clicked for a larger view.
Shore Leave (
The Venture Bros.)
and Slave Leia strike a pose for onlookers.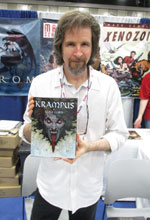 Famed illustrator Brom with his new
Krampus
book, featuring a character that's increasingly part of the holiday zeitgeist.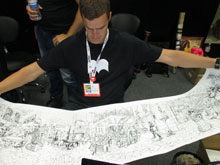 Showing the complications of trying to relate print to digital at the Madefire booth, here's the rough art for a 3-D room that readers can navigate in one of its digital comics.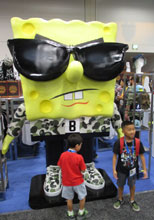 Despite its age, SpongeBob remains a character with the ability to adapt to new eras, here with shoes from Bait (see "
Where Sneakerhead and Vinyl Culture Meet
").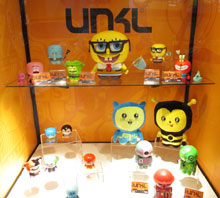 And here with figures from Toynami.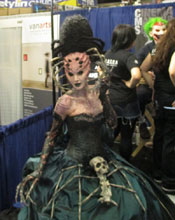 At the Cinema Make-Up School booth, showing off their handiwork.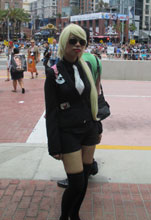 Geekily fashionable.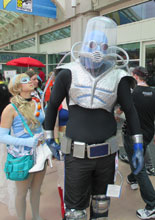 Mister Freeze seems ot have an admirer!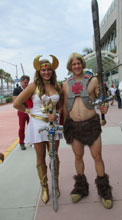 "By the power of Grayskull..." It's She-Ra and He-Man!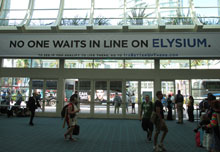 Two layers of marketing: an
Elysium
banner inside and a
Grimm
bus outside.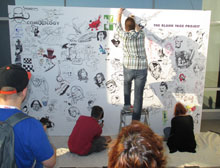 Artists working on the comiXology Hero Initiative mural Thursday evening, soon to be auctioned for the charity.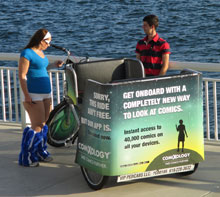 ComiXology sponsored a fleet of pedicabs; this one was parked behind the Hilton Bayfront, where the Hero Initiative piece was created.
Click here to go back to
Part 1
.