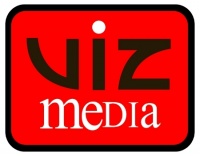 ICv2 interviewed Viz Vice President Publishing Leyla Aker and Director, Publishing Sales and Marketing Kevin Hamric at Comic-Con to get an update on the state of the market and Viz's place in it. In Part 2, we talk about Viz's publishing plans for the coming months, including its kids program and the potential for new manga hits. In Part 1, we talked about the state of the manga market, how Viz plans to use the day and date digital Shonen Jump to develop print content for the U.S., and the competition between paid digital content and free.
What are your plans this year for number of volumes printed vs. last year?
Aker:
It's stable. After the peak of 2008 when were in the bubble where we were churning out well over 450 volumes a year, we settled back down toward the 300 volume level where we've been for the last couple of years. That's our perfect amount for the size of our company, and that's where we'll be at.
That includes your U.S.-generated content?
Aker:
Yes.
From that point of view, your manga content has gone down, or is going down?
Aker:
Not over the past couple of years; not since the contraction.
You're printing the same number of titles over-all, but doing more U.S.-generated titles.
Aker:
That's really only a couple of titles. We're talking maybe 10.
Let's talk about your kids program. You've had some new licenses announced this year. So far in the U.S.-produced content, what's been your most successful product?
Hamric:
Uglydolls
is just hitting. Probably most successful so far has been
Winx Club
. We're coming out with volume 9 shortly, but the first eight volumes have done extremely well. Very strong, especially in Canada where Costco's been selling it like crazy.
With the rebranding of the Kids line--now it's Perfect Square--we're doing away with Viz Kids imprint and the new stuff coming out with
Uglydolls, Hello Kitty
, we just announced
Bravest Warriors
from Cartoon Hangover this week. Very, very strong I.P. going forward.
Aker:
I would also say
Max Steel
is going to do well. Mattel is putting a lot of promotion strength behind it.
Hamric:
And also
Ben 10 Omniverse
from Cartoon Network.
That's really an Energizer Bunny property…
Hamric:
Yes, this is its third iteration.
Viz Kids seems like a really descriptive name, so why did you change it to Perfect Square (see "Viz Media Launches New Perfect Square Imprint for Kids")?
Hamric:
With the I.P.s that we're acquiring now, the new formats and types of books that we're going to be publishing, we needed something that didn't have the word "kids" on it. We may be going up in to YA kinds of things. This was just more expressive and expansive of the types of publishing that we're going to be doing under the imprint of Perfect Square.
Aker:
And also the automatic assumption with Viz Kids is that it's manga, and these aren't manga.
What about a kid's manga title--what imprint will that be marketed under?
Aker:
That will still be Perfect Square, like our
Pokemon
and
Zelda
books.
Are you going to market both kids and YA titles under this brand?
Hamric:
Yes. Viz Kids had the connotation of just being manga, so everything from
Pokemon
to
Uglydolls
, to
Max Steel
, to
Famous Warrior
will be under the Perfect Square imprint. When we reprint, we'll rebrand.
When we look at the bestselling manga properties for the first part of the year… so many of the Viz titles have been around for a while. Are there just fewer new hits in Japan? Is there a smaller pipeline of new material that's catching on here or why is that?
Aker:
Without knowing your list, I can probably predict what's on there. They're the
Shonen Jump
properties.
Blue Exorcist
and
Rosario + Vampire
are two of the new ones. The thing we see with the magazine, and really with any publishing in general, is that it tends to follow this phase pattern where you get this period of a year or two where you have all of these strong properties coming out, and then you'll have a phase where you're maintaining with those properties, and then there's a transition, and then the new group comes along. Right now, the still running properties--the
Narutos
, the
Bleaches
,
Blue Exorcist
and all that, those are what is in the magazines right now. So it's not until they actually finish that we're going to see new properties coming down the pipeline. They're still being published.
One Piece is still the #1 title from your parents in Japan, and that's on volume 68. Over the last decade it seems that there was more churn, maybe because we were catching up with what was going on in Japan
?
Aker:
I think that's a huge portion of it. If you look at other countries when they're rolling out the same series, you see the same pattern. What I'm getting at, those properties constituted one wave that hit our shores at a certain point, and there will be another one, we're just still in the back side of that wave to a certain extent. It's also a timing thing. New properties like
Blue Exorcist
and
Rosario + Vampire
, when you're looking at their initial numbers and what they're doing in their first year of life, it's comparable to
Naruto
and
Death Note
, but they've only been around for a year or two. Two years vs. eight. And there's a couple of newer series that I think are going to do really well.
What are those titles (of the ones you've announced) that have the potential to do really well?
Aker:
I think
Nisekoi
is probably going to get a really good response. I underestimated this, but the response that we got starting at AX to the new editions of
Ranma 1/2
were really, really strong. People were really excited about it. Obviously, we know it's a classic work, it's a hallmark.
Hey, Sailor Moon is selling.
Aker:
Yeah, it's a cognitive dissonance thing. I knew there was going to be a positive response, but I was still really surprised by how strong a response it was. People were really psyched about it.
It's the first time right to left, so that's a big deal.
Hamric:
The people I was talking to in the booth yesterday seemed to be a younger audience and it's their first time.
Aker:
We know that for the older generation of manga fans, like
Sailor Moon
, this [
Ranma 1/
2] was one of the gateway properties that people had consumed. I'm more excited to get it into the hands of a younger audience.
Nisekoi
will also do strongly. It also got a good amount of response.
One thing that will be interesting to see is our tie-ins for the upcoming movie based on
All You Need is Kill
, one of our Haikasoru volumes. Now it's being called
Edge of Tomorrow
.
Hamric:
With Tom Cruise and Emily Blunt.
Aker:
Warner's doing the big panel tomorrow, so we'll see what the response is. That is slated for June 2014. The advances for that look really good.
What are you planning on the publishing side for tie-ins, especially with the title change? How are you going to educate people that there's something out there that this is based on?
Aker:
We'll include it in all the messaging. It's like
Blade Runner
, or whatever else. We'll have the regular edition of the novel. We just announced yesterday that we're doing an original graphic novel tie-in for it that's being drawn by Lee Furguson who did
Green Arrow
and
Miranda Mercury
. It's a U.S. adaptation that will be U.S. graphic novel sized. And we'll do a mass market movie tie-in of the novel as well, using the movie art.
Hamric:
That'll be Viz's first prose mass market title.
Click here to go back to
Part 1
.