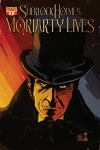 At the Baltimore Comic Con, Dynamite Entertainment announced the December debut of the first issue of a five-issue miniseries,
Sherlock Holmes: Moriarty Lives
, which will be written by David Liss (
Black Panther
) and illustrated by Daniel Indro (
Mark Waid's The Green Hornet
). The major twist with this series, which takes place after Holmes and Moriarty plunge off the Reichenbach Falls in Switzerland, is that Moriarty survives, and uses his intellect and cunning to battle a villain far more evil and dangerous than the criminal mastermind himself. Eisner Award-winning artist Francesco Francavilla (
The Black Beetle
) will be providing covers for the miniseries.
Liss, who is a well-known writer of crime and detective fiction, explains that he has always wanted to tell a story from Moriarty's point of view, "No one is the villain of their own narrative, and no one is evil all the time, so I thought it would be fun to write a story about a very bad man, who finds himself in a situation in which he chooses to do good--mostly."
Diamond has been publishing various
Sherlock Holmes
comic series since 2009 (see "
Dynamite Announces 'Sherlock Holmes'
"), and Conan Doyle's most famous creation is currently undergoing a bit of a renaissance with a stylish BBC TV series starring Benedict Cumberbatch, and a popular US TV show,
Elementary
, as well as the ongoing series of Robert Downey, Jr./Jude Law movies and a recently announced "Old Sherlock Holmes" film that will star Ian McKellen (
The Hobbit)
as the master sleuth.