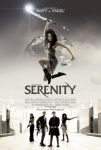 Dark Horse Comics will launch a new
Serenity
comic, illustrated by
Buffy the Vampire Slayer
artist Georges Jeanty, according to
Comic Book Resources
. The story will pick up just after the 2005 film
Serenity
closes. "With River Tam in the co-pilot chair and a very pregnant Zoe reeling from the death of her husband, Wash, Mal is finding himself and his ship in greater danger than ever," Jeanty said. The Alliance, it seems, has been attacking them in revenge for the broadband exposing how they were ultimately responsible for creating the Reavers.
Jeanty describes the shift in his artwork necessary for the new title, since Browncoats are rather particular about how their favorite ship and crew are illustrated. "[W]hen I was drawing
Buffy
, I could start from scratch. Sure, I had to keep in line with how the characters looked, but everything was up for grabs," he said. "With
Firefly
there are seven characters and a ship to consider. When they're on Serenity--fans know what every inch of that ship looks like, so I have to be very meticulous with my depiction."
The writer on the book has yet to be announced.
Related property
Firefly
has been on a licensing tear recently, with Gale Force 9's
Firefly
board game (see "
'Firefly: Breakin' Atmo'
"), Toy Vault's
Firefly: Out to the Black
card game (see "
'Firefly: Out to the Black' Card Game
"), The
Firefly Online Game
(see "
'Firefly' Online Game
"), and the
Firefly RPG
("
First 'Firefly RPG' Release Will Be Website Exclusive
").