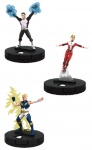 WizKids will release
DC HeroClix: Superman and the Legion of Super-Heroes
, beginning on January 29th, 2014 with the first of three SKUs, the 24 Ct. Gravity Feed. The Booster Packs and Fast Force Packs will release on February 12th, along with the Organized Play Kit.
The single-figure $2.99 foil packs in the Gravity Feed will feature 10 figures with flat rarity, including Ultra Boy, Phantom Girl, Daxamites, and the Science Police.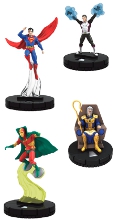 Booster Packs ($12.99) will include Cosmic Boy, Saturn Girl, and Lightning Lad among the 69 figures in the set. The rarity breakdown is 16 Common (plus one Prime), 16 Uncommon (plus one Prime), 13 Rare (plus one Prime), 11 Super Rare (plus one Prime), 5 thematic Chase figures, and 4 Toyman "toy drone" figures (similar to the Flock of Bats from 2012's
DC HeroClix: Batman
). (The sub-themes include the Legion Espionage Squad, the Legion Lost, Legion of Doom, and the New Gods.)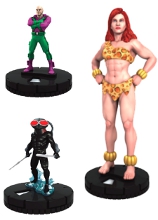 The
DC HeroClix: Superman and the Legion of Super-Heroes "The Legion of Doom" Fast Forces Pack
($16.99) will feature Legion of Doom members Lex Luthor, Bizarro, Black Manta, Cheetah, Giganta and Solomon Grundy. The pack will also include two exclusive maps and a code to unlock exclusive online content.
Each Organized Play Kit will include nine limited edition figures (three each of three figures), 30 3D objects (10 copies of three different objects), 10 two-sided maps and an instruction sheet. Stores are limited in the number of OP Kits they may order from their distributor based on cumulative cases of product ordered, with no more than 3 OP Kits per retail store.