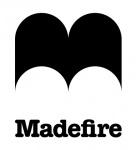 Three digital comics announcements came out in a pre-New York Comic Con flurry this week, from Madefire, Viz, and comiXology.
Madefire raised $5.2 million in Series A funding from a combination of venture funds and angels, the company announced this week. The round was led by True Ventures; other venture firms involved were Anthem Venture Partners, Crosslink Ventures, and Correlation Ventures. Angels in the round included formal Apple SVP Sina Tammadon, former Macromedia Chairman Bill Wordward, media enterepreneur and investor Richard Seet, and Hollywood attorney Gary Stiffelman. Madefire raised a seed round of $1.1 million in 2011, also led by True Ventures.
Viz Media has released its entire digital manga catalog of over 1500 volumes on the Kindle platform, and will release new volumes on the Kindle simultaneously with print release. Most Viz manga volumes will be $6.99 on the Kindle.
ComiXology has added the 12-Gauge Comics
Boondock Saints
comics to its platform, the company announced this week, timed to coincide with the release of the Blu-ray Director's Cut edition of
Boondock Saints II
this week.
--Disclosure: ICv2 has a business relationship with comiXology as a representative for its Retailer Tools; ICv2 CEO Milton Griepp also serves on the board of comiXology.