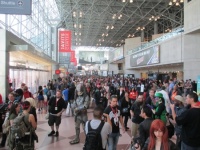 New York Comic-Con had over 130,000 attendees this year, according to Reed Exhibitions Group Vice President Lance Fensterman, up from 116,000 last year (see "
New York Comic Con Maxes Out at 116,000
"). That's equal to or slightly larger than the attendance at San Diego Comic-Con, as last revealed by the show (see "
Interview with Comic-Con's David Glanzer
"). San Diego Comic-Con still has more industry attendees, press, and a higher star quotient, but in raw numbers, the shows are now roughly the same.
One change in the mix of attendees this year was that Reed reduced the number of three day passes it sold, which allowed it to get a greater number of new people into the show every day. That's a trend that may be expanded next year in order to continue to increase the number of people that can attend the show.
So with roughly the same number of tickets each day (albeit with a different mix), why were the exhibit floor and other areas of the Javits Convention Center noticeably less packed than the last couple of years? "I think we had wildly underestimated our fraudulent ticket issue," Fensterman told ICv2. "We had the exact same number of ticketed people per day as last year, but if you looked at the common spaces, they were 40% less congested. We had a pretty big counterfeit problem."
For the 2013 New York Comic Con, Reed instituted RFID (radio frequency identification) badges, which at this point are impossible to counterfeit and which had to be scanned in and out of the convention center. That tracking also helped identify badge-sharing among exhibitors as a significant source of over-crowding.
"We had a massive, massive badge-sharing issue with exhibitors," Fensterman said. "They were using their passes multiple times, handing them off to get booth personnel in. That was a big piece of our crowding issue. [This year] you walk out with six exhibitor badges and hand them to six new people and when you try to scan in they can't get back in because they weren't scanned out. We understand they need more booth personnel, but this is not the way to do it."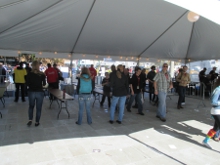 Reed also moved the perimeter of the secured area from the doors of the exhibit hall and other show areas to the border of the property. "We didn't have to check badges at doors inside, so we had a lot more people at the edges of the property," Fensterman said. "In the past, the building wasn't secure. You could walk into the building, but couldn't get onto the show floor. We secured everything so you couldn't get into the venue without a badge."
Reed also hired "a lot more security, and a lot more senior level security," which allowed flow into the building to proceed more rapidly than in years past despite the higher level of security. "Between 9 and 11:30 Saturday, we had 54,000 people scan through," Fensterman told us.
Sunday morning, the lines were cleared within 37 minutes of the show opening, a process that took about two hours last year, according to Fensterman.
In addition to reduced counterfeiting and improved security, the RFID badges allow tracking of specific individuals into and out of the convention center. This will allow Reed to fine tune the sale of three day passes vs. individual day passes because for the first time, they will actually know how many of the three-day pass-holders attend the show each day. "There is so much data that we'll be able to analyze," Fensterman said.
The type of RFID functionality in the badges cannot be used to track internal movements to different areas of the hall, but there's still a lot of data that can be utilized. Among the possible outputs, Fensterman said the show organizers are hoping to identify the #1 New York Comic Con fan who spent the most time at the convention center over the course of the show.
All those factors are compensating for the "big investment monetarily and in time" the new badges represented, Fensterman told us.
Next year's show has already been scheduled, for October 9-12, 2014. We asked Fensterman if Reed was considering adding another day to the show. "Not yet," he said. "We're going to focus on extending the show throughout the city before we start thinking about extending the days."
The exhibit floor has some rough groupings, but there's a pretty eclectic mix of exhibitors in most areas. There's a discrete area for designer toys and art, branded "The Block," but other subcategories such as tabletop games and anime and manga are spread throughout the floor. Fensterman told us there are a couple of reasons for that. Exhibitors can request specific locations, and the designer toy exhibitors requested to be together, Fensterman said. And the show organizers like the cross-pollination effect of having a mix of exhibitors in most areas. "If you only go to what you know, you're only going to see what you know about," he said.
Overall, Fensterman expressed a high level of satisfaction with the operation of New York Comic Con this year. "I think it's the best show we've run from a logistical standpoint," he said. "I think we had a really great, diverse line-up of talent. I think our audience is fascinating. We had a lot of first-timers at the show. There's a lot to work on, but I'm happy."