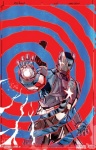 New York Comic Con News:
Marvel Comics announced that writer Ales Kot and artist Gerry Brown are collaborating on a new ongoing
Iron Patriot
Marvel NOW series, which will debut in March. Though the original
Iron Patriot
was Marvel villain Norman "Green Goblin" Osborn, who created and then donned the flag-festooned armored suit during the
Dark Reign
event, more recently in
Secret Avengers
, it was James "Rhodey" Rhodes, the former
War Machine
, who wore the Iron Patriot armor (at S.H.I.E.L.D. agent Phil Coulson's suggestion) and made it his own.
In the new
Iron Patriot
series by Kot and Brown, Rhodes is forced to deal with all the challenges of a modern military man facing domestic terrorism and dealing with a government, which is becoming increasingly involved with superheroes. When his cover is blown in the very first issue of the new series, Rhodes faces a number of complicated and difficult decisions as he tries to foil the terrorist plots of The Nihilist.