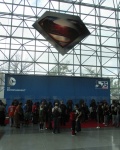 We wrap up the story of New York Comic Con with pictures from Sunday, the final day. To start from the beginning, go to
Part 1
or for the first batch of the Saturday photos, go to
Part 5
.
The show is now as big as San Diego Comic Con (see "
NYCC as Big as San Diego Comic Con
").
NOTE: Any image can be clicked for a larger view.
DC eschewed exhibit space for a display of Superman costumes and autograph area at the south end of the Javits Center, which many people undoubtedly never saw.
Kidrobot anchored "The Block," the designer toy and art area of the exhibit space.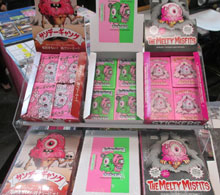 Sidekick trading Cards did its own "Japanese Bootleg" edition (left) of its
Melty Misfits
trading cards for New York Comic Con.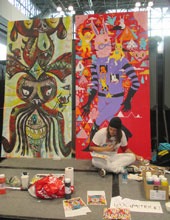 Art created during the show.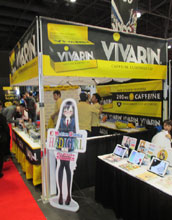 Another of many surprising juxtapositions at the show: the Manga 2.5 booth, which was promoting its
Hadigirl
Motion Comic, next to Vivarin, giving con-goers the energy they needed.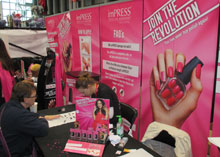 One of a number of personal care exhibitors at the show.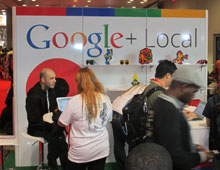 Google was there, promoting its Google+ Local service.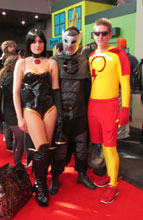 Members of the Crime Syndicate--Superwoman, Owlman and Johnny Quick--took a break from evil and were enjoying the con on Sunday.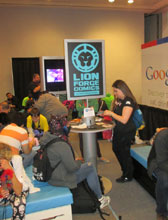 Lion Forge, which is publishing digital comics based on Knight Rider, Airwolf, and other licensed and original properties, sponsored a rest area with charging stations.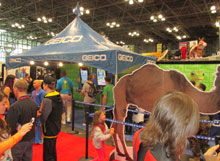 Geico, promoting insurance with a pin, videogame, and other promotions.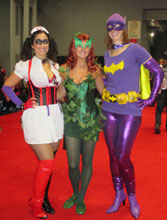 Harley Quinn, Poison Ivy, and the classic TV Batgirl.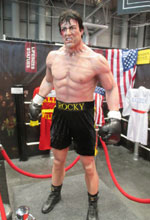 Walt Wizard Designs' life size Rocky Balboa figure.
Click here
for Part 9.