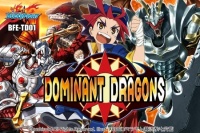 Bushiroad released marketing, gameplay, and product info about its newest trading card game,
Future Card Buddyfight,
during its U.S. tour (see "
Bushiroad Provides First Look at New CCG
"), which complement the info in ICv2's recent interview with Bushiroad CEO Takaaki Kidani and game co-creator Yoshimasa Ikeda (see "
Interview with Bushiroad's CEO
").
The conferences were conducted by Kidani along with special guests Ikeda,
Future Card Buddyfight
co-creator Shunichi Taira, and Bushiroad USA General Manager Junghun Kim. Ikeda, through a translator, spoke about his history as owner of the CardKingdom store, which he started because he was a fan of
Magic: The Gathering.
The business has grown and is now franchised in Japan in nearly 25 locations. As a store owner, he appreciated Bushiroad's interest in retailer and player feedback, he said, which eventually led him to collaborate with the company on his own "idealized version" of a card game, which eventually became
Future Card Buddyfight.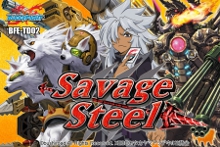 Bushiroad is planning to follow the marketing strategy it has used for
Cardfight!! Vanguard
for
Future Card Buddyfight
. In addition to making the English version of the anime available for free viewing on YouTube, Bushiroad will give away DVDs and comics to store owners and directly to players at large anime and game events. At the trade level, Bushiroad will promote
FCB
to its
Vanguard
tournament stores, and also expressed a willingness to incorporate feedback and ideas from store owners and players for future development to help "Americanize" the game.
Gameplay involves picking a world which will correspond to a trial deck. The first two trial decks will cover Dragon World (
Dominant Dragons
) and Danger World (
Savage Steel
), while booster releases will generally cover three worlds. Future releases will cover Magic World, Katana World, Cyber Ninja World, Ghost Samurai World, Legend World (which mixes mythologies from of all over the world) and Hero World (with robots).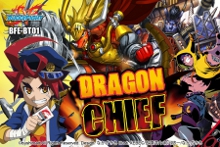 Like a clan in
Vanguard
, there are certain styles of play and specific keywords and abilities linked to the clan. However, there are different variations of play within the world, and there are four types of cards used in play--versus the one "unit" card in Vanguard. Also, unlike basic "monster vs. monster" play, in
FCB
players can join their monster in battle by equipping themselves with a weapon. Players win by reducing their opponent's points from 10 to zero.
Bushiroad plans to release four different types of Booster Packs, six Trial Decks, and roughly three Extra Boosters in 2014. The main booster schedule will be January, April, July and October. The Trial Deck and extra booster schedule has yet to be determined. Rarity scheme has not been revealed but Bushiroad said it would be "similar to
Vanguard
." Like
Vanguard, Future Card Buddyfight
products will not carry a specific MSRP.