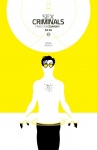 Image's
Sex Criminals
#2 has been banned from iOS comic apps, but not from iBooks, Image and the books creators, Matt Fraction and Chip Zdarsky, have announced. The Apple explanation was limited: "We found that one or more of your In-App Purchases contains content that many audiences would find objectionable, which is not in compliance with the App Store Review Guidelines."
Image Publisher Eric Stephenson, in a joint interview with Fraction, Zdarsky, and the
Comic Book Legal Defense Fund
, explained that the book was first delayed for an extended review by Apple, then banned completely.
Zdarsky noted that since no indication of what content Apple found objectionable was provided, there was no way to change the book to make it acceptable. "Heck, if they were specific about the problem, we'd at least have a chance to put a black bar over something if inclined," Zdarsky told the CBLDF. "But THEN it looks like censorship, whereas a full banning somehow evades those kinds of optics. My mind reels."
Inexplicably, in the iBooks app,
Sex Criminals
#2 is still available. In the iBooks app, Apple sells directly to consumers rather than taking a commission on sales made through third party apps, such as the Comics by comiXology and Image apps (both powered by comiXology). The comiXology app is age-restricted, so the difference is not that iBooks serves a different, older audience.
Not only was there inconsistency between different Apple stores. Stephenson noted the inconsistencies in Apple's decision. "I mean, first off--there's not a lot of difference between the content in issue one and issue two, but the one thing comiXology mentioned was that it may be--and they were just guessing here--because of the floating semen in issue two," he said. "But then, if that's the tipping point... isn't
Something About Mary
available on the iTunes store? Because I'm pretty sure that has a fairly memorable scene involving Cameron Diaz running a handful of "semen" through her hair thinking it's hair gel. And there's an episode of
Girls
where a guy ejaculates on Lena Dunham's chest and you can get that on there as well, so... it's tame content by comparison, and on top of that, the notorious
Saga
#12--that's still available on both the iBookstore and through the comiXology app. There's no real standard, and it's just kind of inconsistent and hypocritical."
Digital copies of the book remain available on the comiXology and Image websites, in the comiXology apps for Android and Windows; and, of course, in comic stores, where
Sex Criminals
#1 ranked #54 on the September Top 300 chart (see "
Top 300 Comics--September 2013
").