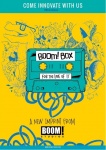 BOOM! Studios is launching its fourth imprint, BOOM! Box, in December. The new imprint will be edited by Shannon Watters, who edits Adventure Time, Regular Show, and Bravest Warriors for BOOM!'s KaBOOM! Line. It will focus on creators from outside the traditional comic market, including web cartoonists, illustrators, and fine artists.
The first book under the imprint will be
Midas Flesh
, a new science fiction adventure series spun off from Ryan North's webcomic Dinosaur Comics. The new comic, by North and artists Shelli Paroline and Braden Lamb, will launch in December.
BOOM!'s other imprints are KaBOOM!, BOOM! Town, and Archaia.