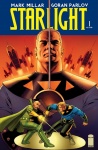 20th Century Fox is close to signing a movie deal for Mark Millar's
Starlight
with Simon Kinberg to write and produce, according to
Hollywood Reporter
. Kinberg is Fox's go-to writer and producer on geek films; he's on
X-Men: Days of Future Past
and the upcoming
Fantastic Four
reboot (see "
Simon Kinberg on 'Fantastic Four'
").
The first issue of the comic, which will kick off a major inter-connected storyline across eight or nine Millarworld titles over the next three years, ships in March (see "
Mark Millar's 'Starlight'
"). The idea of a comic universe with lots of characters that could spawn multiple franchises undoubtedly has the studio slavering over the possibilities.
Fox has an ongoing relationship with Millar:
Secret Service
is currently getting underway for a 2015 release (see "
Geek Film Date Shifts
"), and Fox has a deal for an adaptation of the as-yet-unpublished Millar kid comic
Kindergarten Heroes
(see "
Movie from Millar's 'Kindergarten Heroes'
").