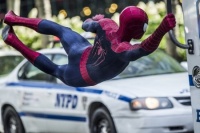 The international trailer has debuted for
The Amazing Spider-Man 2
, and it not only contains some different footage, it also has a much more optimistic tone than the first American trailer.
"You know what it is I love about being Spider-Man? Everything!" Peter (Andrew Garfield) says over the exact same opening footage as in the American trailer where he was lamenting his lot in life (see "
First 'Spidey 2' Trailer
").
The clip features a laugh while hiding from Aunt May (Sally Field) and some glimpse of Peter's relationship with Gwen (Emma Stone), as well as a few different shots of battles with Rhino and Electro. No teasers about Venom or the Sinister Six though (see "
Venom, Sinister Six Movies
").
The Amazing Spider-Man 2
opens in theaters May 2, 2014.