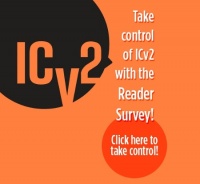 An ICv2 Release.
ICv2 has launched a reader survey to give its readers more control over the company's direction. "Understanding what our readers value, and what changes they'd like to see, will help us improve our offerings," ICv2 CEO Milton Griepp said.
The survey seeks feedback on both the company's website, ICv2.com, and its magazine,
ICv2's Internal Correspondence
.
Click here
to take the ICv2 survey.