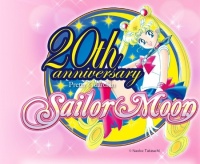 Toei Animation has announced the new
Sailor Moon
anime will premiere worldwide in July, according to the official Japanese website for the Sailor Moon 20th Anniversary Project, reported by
Anime News Network
. In a separate announcement, also via
Anime News Network
, producer Atsutoshi Umezawa also stated the new anime is not a remake of the first show, but rather a new adaptation of Naoko Takeuchi's original manga, "starting from scratch again."
The series was originally slated to be launched in the summer of 2013 (see "
New 'Sailor Moon' Anime
"), tied to the property's 20th Anniversary Project in 2012 (Naoko Takeuchi's original manga was first serialized in the shojo magazine
Nakayoshi
in 1992). It was later pushed back to winter release, and now has been delayed again, this time to summer 2014. The new show will stream worldwide simultaneously via the Niconico service, and according to Dallas Middaugh, who handles Kodansha for Random House Publisher Services, will be subtitled in 10 languages.
This is good news for retailers, as it will likely spark renewed interest in the source material from a legion of new, young fans. Not that Sailor Moon has ever been out of style, with a volume still ranking in the BookScan Top 20 (see "
November BookScan--Top 20 Graphic Novels
") and still number one on the ICv2 Top 10 Shojo Properties list (see "
Top 10 Shojo Properties--Summer 2013
").
The new adaptation will be directed by Munehisa Sakai (
One Piece, One Piece: Strong World, Suite Precure
), with Momoiro Clover Z performing the theme song.