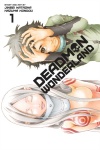 Deadman Wonderland Vol. 1 TP
Publisher: VIZ Media
Release Date: February 11, 2014
Price: $9.99
Creator(s): Jinsei Kataoka (story) and Kazuma Kondou (art)
Format: 215 pgs., Black & White, Trade Paperback
ISBN: 9-781-4215-5548-5
Age Rating: Older Teen
ICv2 Rating: 3.5 stars out of 5
Deadman Wonderland
is getting a new lease on life! Originally released in North America by Tokyopop in 2010, the series went away when that particular company went under leaving many fans to wonder if they would ever get to see the conclusion of the series released here in the states. Luckily for them VIZ Media picked up the license and are now releasing it again for fans who missed it the first time around.
Taking place in an alternate reality,
Deadman Wonderland
follows a boy named Ganta who has been framed for the murder of everyone in his class by a mysterious person known only as the Red Man. After a speedy trial, he is sent to death row in a private prison where inmates compete in bizarre and deadly games for the amusement of the general public. The name of the prison: Deadman Wonderland.
While it is a quick read, there are a number of things about the first volume of
Deadman Wonderland
for people to enjoy but it's not going to be for everyone. This is a series that enjoys making the audience uncomfortable with how brutal the prison system can be. The games that these prisoners are forced to take part in are very deadly and as you read you will see people literally being sliced into pieces or electrocuted to death for fun. The artwork will not shy away from these moments and blood will be spilled across these pages. If you don't want to look at such things, you are not going to want to pick up this book.
The foreshadowing in this first volume however is really intriguing. When he is framed for the murder of his class, a special ball is inserted into his chest which seemingly grants him some interesting powers that he slowly starts to learn about as the story progresses. What is this power? What does it mean for him when the owners of the prison discover that he has a strange ability? And on a completely separate note, who is this girl named Shiro who keeps popping up randomly to help Ganta? These are very interesting questions that are raised throughout the book and they will make you want to know more and pick up another volume to find out.
A solid read, the first volume of
Deadman Wonderland
is great for older teens and adults who are looking for something dark and graphic to enjoy. This is not light fare but those who pick it up are going to find themselves pulled into the same nightmare that Ganta is dealing with and likely enjoy every moment of it. This one is recommended.
--
L.B. Bryant