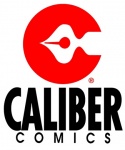 Caliber Comics, who in the 1990s published some of the first work by creators including Ed Brubaker, Brian Bendis, Michael Allred, Vince Locke, and David Mack among others, will be relaunching in 2014, with founder Gary Reed again in charge.
Caliber suspended publishing in 2001, but over its 12 year publishing history, released over 1,400 comics, many creator owned, and helped to launch the careers of many of today's top comic creators.
The new Caliber Comics will be a division of Caliber Entertainment, LLC., which was formed by Reed and partner Eric Reichert, President of Eagle One Media, a distributor of independent films and a producer of animated comic products (see "
IDW Joins Eagle One Digital Comic Store
" for some of its past activities).
The new company will focus on new and reprint graphic novels in print and digital. Floppies will be done in partnership with an existing publisher.
"As far as new monthly comics go, that is a massive undertaking that we're not going to tackle immediately. We will likely look to partner up with an established company on the comic floppies because in today's market, you can't just make it unless you have enough awareness in the comics market," Reed said.
Reed also said that Transfuzion Publishing, a company he co-founded with Rafael Neives in 2007, will cease operations and the titles will fold into Caliber (see "
Transfuzion Announces First 11 Titles
"). Transfuzion had released about 70 graphic novels, including Don Lomax's
Vietnam Journal
(see "
'Vietnam Journal' Graphic Novels
") over the last few years and will continue in print, but with a new Caliber imprint, transitioning over the next couple of months.
Reichert added that with Caliber's large library of works, they will be actively pursuing development along all media platforms including print, digital, film, television, web, and even consumer products.
Caliber will begin releasing new titles in the next few months. Reed himself has written numerous comics including
Deadworld
, currently published by IDW Publishing (see "
'Deadworld' Weekly
").