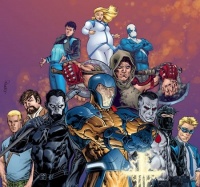 Valiant Entertainment and Catalyst Game Labs have announced a licensing agreement under which Catalyst will produce role-playing and tabletop games featuring Valiant's library of superheroes. The partnership between the two publishers will kick off in mid-2014 with the release of
The Valiant Universe RPG--
the first ever
Valiant RPG
, which will utilize the Cue system, the Origins and ENnie Award-nominated system first published in Catalyst's 1950s Rockets/Rayguns/Robots RPG,
Cosmic Patrol
. Subsequent releases, which will feature a wide array of Valiant properties, will follow in 2015 and beyond.
The Valiant Universe RPG
will allow players to immerse themselves in the dark, gritty world of danger and adventure where the heroes of the Valiant Universe such as X-0 Manowar, Bloodshot, Harbinger, and Shadowman will unite for the first time in a role-playing game.
Just last month Valiant Entertainment announced its
Valiant First
initiative that will debut a major new #1 series monthly in 2014 starting in May with
RAI
#1, the premiere issue of a new series written by
New York Times
bestselling author Matt Kindt and illustrated by artist Clayton Crain (see "
Valiant First Initiative Launches New Titles
").