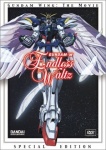 The Top 10 Cool lists for February, 2001 have just gone up on ICv2, and our comments are below. These lists are compiled from actual sales submitted by retailers. If you're a retailer and would like to contribute in future months (and receive a lovely assortment of ICv2 gifts), contact tflinn@icv2.com. Here's what February was like for pop culture retailers:
Overview, Comics
The first quarter is traditionally a slow period for sales in the specialty market, but this year's February numbers look a bit better than normal, thanks to products like the JLA Archives Vol. 7 and the launch of three new comic series, Green Arrow #1, Superboy's Legion #1, and Ultimate Marvel: Wolverine & Spider-Man #1. Let's take a quick look at some of the other categories.
Anime
The DVD effect is in full display here. Six of the top ten items are DVDs. With its superior storage capability, enhanced picture and sound, and those delightful special features, DVD is truly the collector's medium. As more and more collectors acquire players, catalog sales will improve as well as collectors gradually acquire their favorite titles in DVD. Gundam and Sailor Moon, with multiple titles in the top 10, are as strong as ever, but notice the Street Fighter Alpha DVD, one of the best-ever anime adaptations of a video game.
Games
CCGs continue to dominate with new Magic releases particularly strong, but Pokemon and DBZ sales are holding up as well. Mage Knight continues to perform, but note the Warhammer 40,000 Tyranid Army Box as well as the Monstrous Compendium, which gives RPGs a foothold at #10 on the list.
Movie/TV
DVDs again play a major role , occupying half of the top ten. Note the appearance at #6 of an excellent book about Crouching Tiger (see 'Crouching Tiger, the Book'), the foreign language blockbuster that earned four Academy Awards and has remained in the Top 10 box office list for 17 straight weeks.
Toys/Statues
Expensive, non action-figure items like the Batarang Mini-Prop and the Kingdom Come Statue dominate, but some great action figures such as The Simpsons Wave 3 and the second series of Buffy the Vampire Slayer figures definitely helped stores that carry toys. Note the Filler Bunny toy from Jhonen Vasquez and Slave Labor (see 'More Zim Connections') that snuck in at #10.