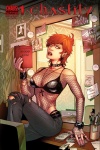 Dynamite Entertainment has announced plans to launch a stand-alone series for
Chastity
in July.
Chastity is part of the Chaos! Comics portfolio, which Dynamite purchased in 2010 (see "
Dynamite Adds Bad Girls
"). Dynamite revived
Evil Ernie
in 2012 (see "
Dynamite Rebooting 'Evil Ernie'
") and is about to launch a
Chaos!
six-issue limited series on May 7 which features Chastity, Evil Ernie, Purgatori and others united in the face of apocalyptic upheaval. The
Chaos!
series is penned Tim Seeley (
Hack/Slash, G.I.Joe Vs. Transformers
), with art by Mirka Andolfo (
Fanboys vs. Zombies
).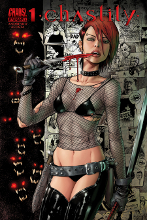 The
Chastity
comic will be written by Marc Andreyko (
Manhunter, Torso, Case Files: Sam & Twitch
), with illustrations by Dave Acosta (
The Vessel of Terror
). Cover art will be done by Emanuela Lupacchino and Tim Seeley, and there will be a shared retailer cover by Jose Luis.
The story is set in the 1980's, and after a career-ending injury shatters her Olympic dreams, 17-year-old Chastity finds solace in a popular series of vampire novels. But the novels somehow drag her into a dark secret underworld.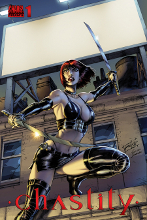 The
Chastity
property was optioned for screen and video last July, but no new news on the project has appeared since then (see "
'Chastity' Optioned For Movies & TV
").